Lexington Zoom Whitening
Zoom delivers dramatically whiter teeth in only one office visit. It is perfect for busy people because it is quick, convenient, and can whiten teeth up to ten shades.
How Does Zoom Whitening Work?
The Zoom whitening system was created by Discus Dental. The whitening formula contains hydrogen peroxide and is activated by a special light. This potent combination oxidizes years of stains away.
After using Zoom, your teeth will always be whiter than they were before you started because the enamel and dentin of your teeth is lightened. Over time, you will likely pick up new stains. But you can always touch up your smile with our take home whitening trays.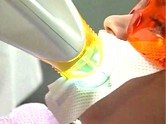 The entire Zoom process is simple. First, protective retractors and a napkin are placed to protect your lips. Then, a protective rubber coating is applied to form a barrier over your gums. The Zoom gel is placed directly onto the surface of your teeth. Then, the Zoom light activates the gel for deep penetration of the bleaching agents.
That's all there is to it. It's quick and easy and you can relax in the chair and listen to music during treatment. Multiple rounds will be done until your desired whiteness is achieved.
Give us a call with any questions. Or to schedule your teeth bleaching appointment, visit our request an appointment page.