If you have multiple dental concerns and are interested in comprehensively rehabilitating the function and appearance of your smile, a full mouth reconstruction (also termed full mouth restoration or full mouth rehabilitation) may be an ideal treatment option.
At Hamburg Expressions, Jenny Miller, DMD is extensively trained in full mouth reconstruction and can help you speak, chew, and smile with confidence once again.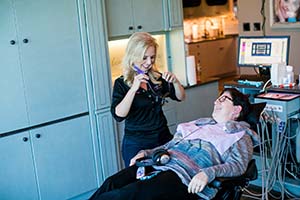 Throughout her 30-plus years in practice, Dr. Miller has successfully restored the smiles of numerous individuals suffering from chipped or broken teeth, worn down or decayed teeth, missing teeth, poor bite alignment and associated pain, periodontal issues, self-consciousness, and more—earning her the reputation as a leader in full mouth reconstruction in Lexington. As an added benefit, all dental restorations can be custom-fabricated right here in our on-site dental laboratory run by Dr. Miller's husband, Certified Master Technician Neil Miller, CDT, CMT. This allows for seamless collaboration between dentist and dental lab, resulting in ultra-precise restoration creation in less time than is typically needed elsewhere.
We invite you to learn more about full mouth reconstruction by reading the informative sections on this page, or simply reach out to Hamburg Expressions today to book a complimentary FaceTime or in-person consultation with Dr. Miller.
FaceTime Consultations
Get your full mouth reconstruction process started before ever stepping foot in our office via a FaceTime consult with Dr. Miller. This virtual meeting offers a convenient and pressure-free opportunity to explain your oral concerns and discover how Dr. Miller can help.
What Is Full Mouth Reconstruction?
Full mouth reconstruction refers to a custom combination of dental treatments employed to restore the form and function of one's entire mouth. This can involve the correction of damaged or missing teeth, gum or bone issues, muscle dysfunction, bite misalignment, and/or various other oral-related concerns—all with the ultimate goal of improving dental health and aesthetics while recapturing a patient's overall well-being.
Full mouth reconstruction is an opportunity to start fresh after your mouth has been damaged or destroyed by cavities, gum disease, accidents, and/or bite problems.
Full Mouth Reconstruction Before-and-After Photos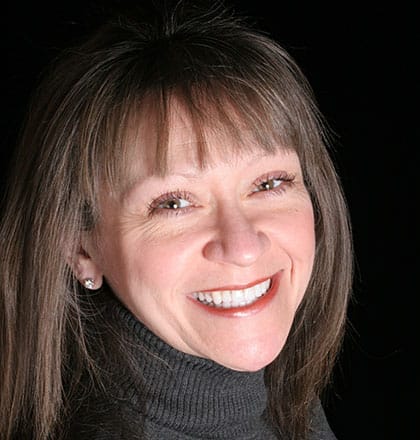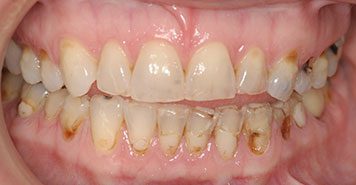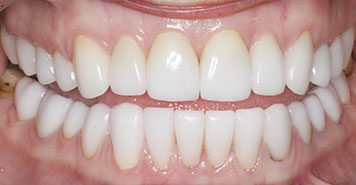 "Go see the team at Hamburg Expressions, learn about the process, make a plan and get your natural smile back. They are very talented at what they do."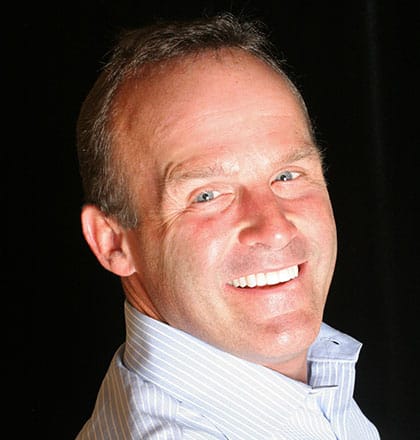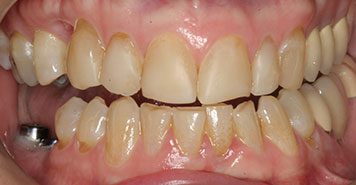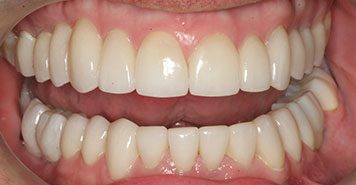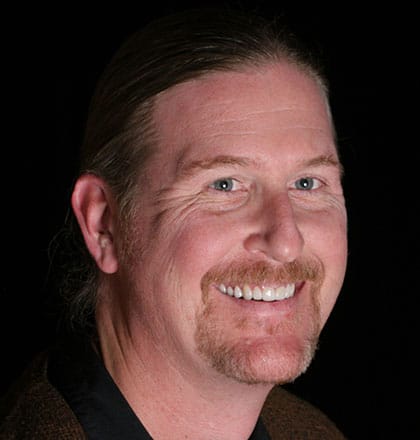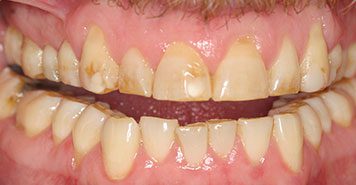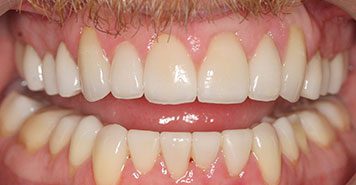 What Are My Full Mouth Reconstruction Treatment Options?
Full mouth reconstructions at Hamburg Expressions include a personalized combination of restorative treatments, with some of the most common procedures being:
Dental Implants
Dental implants are an innovative solution to tooth loss that can replace individual missing teeth, rows of consecutive missing teeth, or entire dental arches. During the procedure, a metal implant post is surgically inserted into the jawbone, stimulating tissue growth and bone density retention. Once the post has fully fused with the jaw, it can be topped with a custom-fabricated dental restoration from our on-site lab. Most patients report that dental implants look, feel, and function almost exactly like their natural teeth.
Porcelain Crowns
Porcelain dental crowns are a durable and versatile option for protecting and reinforcing teeth that have been weakened by damage, decay, or severe wear. They function as a sort of "cap" for the tooth being treated, providing structural and aesthetic enhancement. Crowns are also used to top single-tooth dental implants and anchor traditional dental bridges. Our in-house dental lab customizes the shape, size, and color of each crown to ensure they blend in as seamlessly as possible with the surrounding teeth.
Porcelain Bridges
Porcelain bridges are typically used to replace one or more consecutive missing teeth. These custom-fabricated tooth restorations are anchored using either dental implants (a restoration referred to as an implant bridge) or porcelain crowns (which are placed over the natural teeth on either side of the gap). Bridges can help restore the aesthetics of your smile while also improving bite function, reducing your risk of periodontal disease, and preventing your remaining teeth from shifting out of alignment.
Porcelain Veneers
Porcelain veneers are thin shells of high-quality dental porcelain that are precisely fitted over the fronts and sides of the teeth for comprehensive aesthetic rejuvenation. They can help conceal chips, gaps, stains, wear, minor misalignment, and a variety of other dental concerns. Dr. Miller has over twenty years of experience as a cosmetic dentist, and she will work closely with you in order to select the optimal shade, shape, texture, and degree of translucency for your veneers.
Periodontal Therapy
Healthy gums are an important foundation for both your oral and holistic health. Left untreated, periodontal (gum) disease can lead to a variety of concerns, including tooth loss, bone resorption, and even an increased risk of heart attack and stroke. Dr. Miller's first priority is always your health, so she may recommend that you undergo periodontal therapy prior to starting any other cosmetic or restorative work. This not only enhances the overall health of your mouth, but it also ensures your cosmetic and/or restorative work can last over the long-term.
Oral Hygiene Care
Dental cleanings and hygiene care are designed to optimize your oral health both before and after your full mouth reconstruction. Dr. Miller considers herself a partner in your healthcare, and she will equip you with the knowledge you need in order to care for your new smile in between dental visits.
In addition, Dr. Miller offers a variety of cosmetic dentistry procedures that can be utilized to improve the appearance of any teeth that do not require complete restoration or replacement—further enhancing the aesthetic aspect of treatment.
How Will My Custom Restorations Be Created?
Instead of having to send Dr. Miller's customized design specifications to an outside lab for restoration creation, Hamburg Expressions has the unique distinction of housing a state-of-the-art dental laboratory right here on-site. Operated by Neil Miller, CDT, CMT—a Certified Master Technician and Dr. Miller's husband—our lab is equipped with numerous systems and resources that enable restorations to be fabricated with excellent precision and efficiency right here at our practice. Included among the cutting-edge technologies Neil utilizes are CEREC®, 3D printing, and 5-axis milling—allowing him to construct crowns, bridges, veneers, implant abutments, and more in a matter of days as opposed to weeks. In addition, he is able to make any final adjustments or "touch-ups" right away in the event changes are needed to any restorations after the final try-on. In the end, you benefit from exceptional results in a shorter amount of time than is traditionally necessary for restoration creation at other practices.
Did You Know?
Unlike many other practices, Hamburg Expressions has a fully-equipped on-site dental laboratory in which all restorations can be custom-made in a fraction of the time normally needed—all without sacrificing quality, precision, or aesthetics.
What Are the Steps of a Full Mouth Reconstruction?
Every full mouth reconstruction process is unique to the individual, but below is an overview of the typical steps involved—some of which can be completed during the same office visit.
Step 1: Oral Evaluation and Diagnosis of Dental Issues
To begin a full mouth reconstruction, Dr. Miller will perform an extensive examination of your oral health, identifying issues both seen and unseen to the naked eye. To assist her in doing this, she can employ a variety of innovative diagnostic technologies—such as radiography and digital impressions—to obtain optimal views of all intraoral structures, enabling her to comprehensively assess the condition of the teeth, gums, jawbone, bite, and more.
Step 2: Personalized Treatment Planning
Based on the specific dental concerns identified during the oral evaluation, Dr. Miller will start phase two by introducing all treatments that can effectively address your needs, as well as provide her recommendation as to which services she believes will yield the best final outcome. During this time, you will also be given the opportunity to actually visualize how your potential results may appear with various restorations via a physical wax-up model of your mouth.
Once you and Dr. Miller have selected and agreed upon the particular procedures to be employed, she will move forward with formulating a custom plan—which may involve the use of advanced systems like implant surgical guide technology to identify ideal placement and angles for dental implants, depending on the services involved in your full mouth reconstruction. She will also take into consideration your unique facial features and the personality you wish to exhibit to optimally design the size, shape, and coloration of your new restorations.
Step 3: Oral Wellness Enhancement and Preparation
Step three of the treatment process involves improving oral health and ensuring the mouth is ready for tooth restoration and/or replacement. The particulars of this phase will depend on your unique case, though some common services include dental hygiene care, gum disease therapy, and tooth extraction. In rare instances this preparation stage is not necessary, but most cases require preliminary work to help create a strong foundation for long-term oral function and wellness.
Step 4: Dental Implant Surgery and/or Placement of Temporaries
If included as part of your treatment, dental implant surgery typically occurs once oral health is optimized and/or tooth removal is complete. Surgery is performed by an implant specialist based on the specifics of Dr. Miller's planning, and once complete, a period of healing will be needed to allow the implant post(s) to fuse to the jawbone before placement of the final restorations.
Regardless of whether or not implant surgery is involved, however, Dr. Miller will secure temporary crowns, bridges, and/or veneers to serve as an interim smile enhancement while your final restorations are being created. These temporaries are custom-designed to look and function similar to your ultimate restorations while providing you the opportunity to get used to your new smile.
Step 5: Final Restoration Try-On and Placement
To conclude treatment, Dr. Miller will have you try on your final crowns, bridges, and/or veneers—depending on the specifics of your plan. Any changes or fine-tuning needed for the restorations can be completed right away in our dental lab, though it is uncommon that this is necessary. Once you are pleased with your smile, Dr. Miller will permanently secure your restorations into place. If any cosmetic dentistry procedures, such as teeth whitening, were agreed upon during treatment planning to further enhance the smile, she will also perform these at this time.
When all is said and done, you can expect a remarkable smile transformation with improved oral health, aesthetics, and function.
What Does Full Mouth Reconstruction Cost?
The cost of full mouth reconstruction will vary based on the needs of the individual patient, since each treatment is completely customized. Dr. Miller will carefully evaluate your oral health and aesthetic goals during your consultation, allowing her to formulate a care plan that is suited to your unique case. From there, she can give you a personalized price quote. If you have questions about insurance coverage or financing options, please reach out to our office today. A member of our friendly and knowledgeable team will be happy to assist you.
Contact Hamburg Expressions
To learn more about full mouth reconstruction, or if you are considering treatment and wish to schedule an appointment with Dr. Miller, please don't hesitate to contact Hamburg Expressions today!