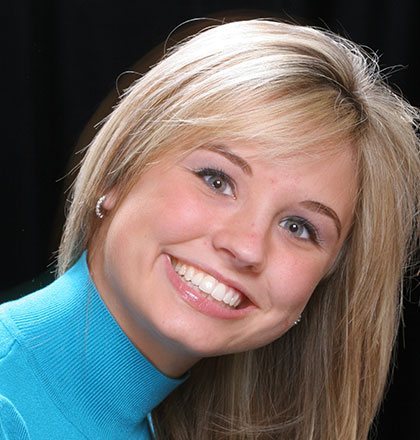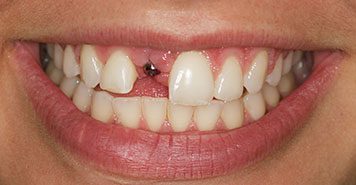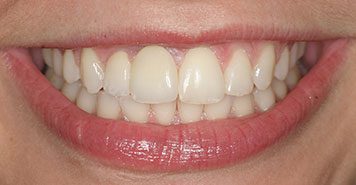 "Without the confidence from you giving me the perfect smile, I wouldn't have been selected to be in the pageant."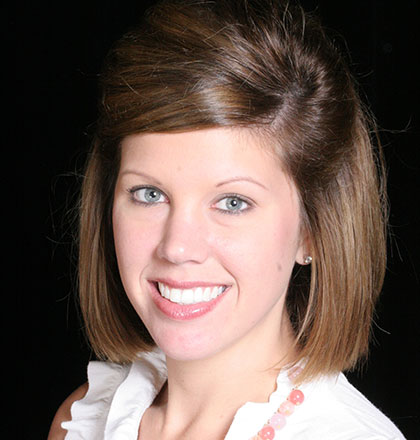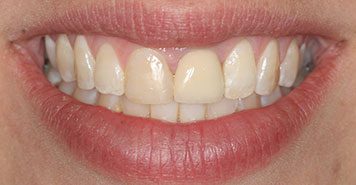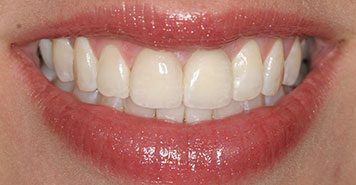 "I used to never smile and now I can't stop smiling!"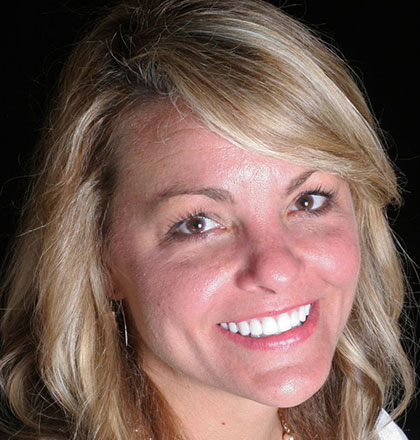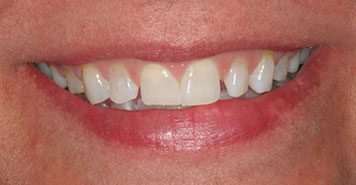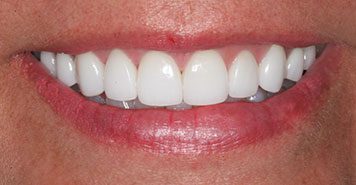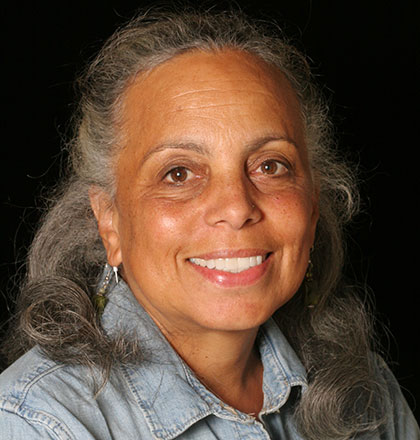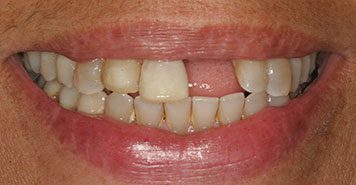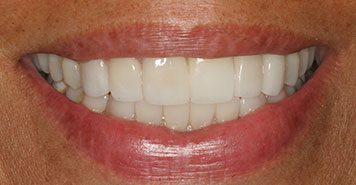 "I wish I had done this years ago. I smile with confidence now."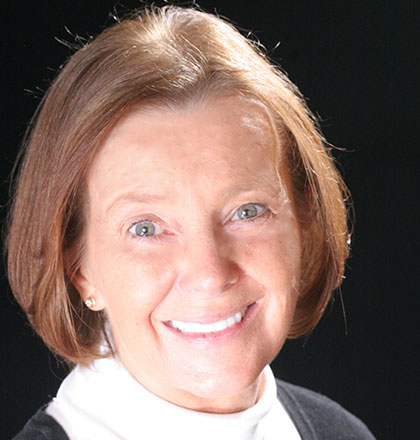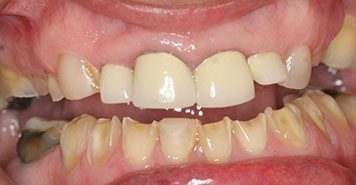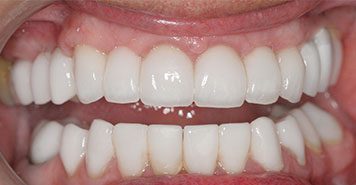 "Words of encouragement for someone unhappy with their smile: 'it is worth having the work done!'"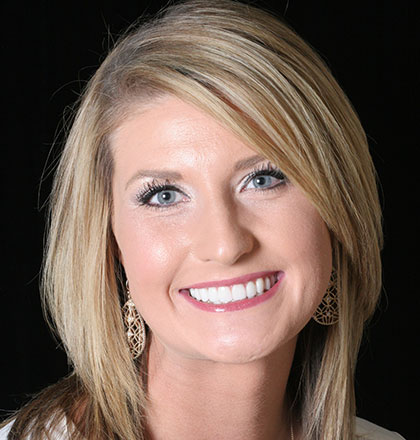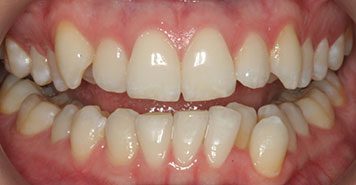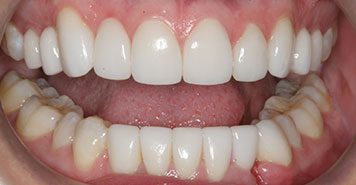 "Wow! It's even better than my hopes!"
What Are Dental Implants?
A missing tooth can be devastating—and not simply in regard to smile aesthetics. If left untreated, tooth loss may adversely alter your speech patterns, chewing efficiency, and even dietary habits. In addition, the surrounding teeth may shift around, and bone deterioration will eventually occur over time.
Dental implants are widely regarded as the premier tooth replacement option for qualified candidates.
If you have lost one tooth, several teeth, or even all of your teeth, you may be a candidate for dental implants—a permanent tooth replacement solution designed to look, feel, and function just like natural teeth. A dental implant is comprised of three main components: a post, an abutment, and a customized restoration. The post serves as an anchor in the jawbone while the restoration, which is attached via the abutment, remains visible above the gumline. For individuals with dentures who would like to eliminate movement of the dentures when talking or eating, dental implants can be life-changing. Implants are also often incorporated into full mouth reconstruction or smile makeover procedures for patients who are interested in comprehensively enhancing the function and aesthetics of their smile.
Over her two-plus decades in practice, Lexington cosmetic dentist Jenny Miller, DMD has helped numerous patients successfully replace teeth through personalized implant dentistry. Unlike many other dental offices, our in-house lab—which is operated by Dr. Miller's husband, Certified Master Technician Neil Miller, CDT, CMT—enables all implant abutments and final tooth restorations to be designed and fabricated right here on-site with unmatched precision and efficiency, ultimately resulting in exceptionally natural-looking and -functioning results.
To learn more about dental implants and whether or not this treatment is right for you, please continue reading the information on this page, or simply contact Hamburg Expressions today to book a complimentary in-person or FaceTime consultation with Dr. Miller.
Did You Know?
Dr. Miller is a Gold Medal Winner of the American Academy of Cosmetic Dentistry's prestigious Smile Gallery Competition! She has also undergone extensive training at the renowned Misch Implant Center, as well as the Las Vegas Institute for Advanced Dental Studies.
What Are the Pros & Cons of Dental Implants?
Pros
Dental implants provide numerous benefits for individuals seeking tooth replacement:
They offer a durable, permanent solution to missing or severely damaged teeth
They do not require messy adhesives or oral glues to stay in place
None of the surrounding teeth are modified (as they are with a traditional dental bridge)
They can be used to help stabilize a denture or partial- or full-arch replacement
They look and function just like natural teeth when speaking, chewing, and smiling
No special maintenance is needed aside from normal brushing, flossing, and dental cleanings
They help prevent bone deterioration and facial collapse (when a tooth is missing, the body reabsorbs the minerals that were once used to support the tooth to be utilized elsewhere in the body, often resulting in debilitating bone loss that can affect facial structure)
They do not decay
There is no nerve to cause pain or ever need a root canal
There is over a 90% success rate of dental implants succeeding for a lifetime
Cons
They have a long healing period, sometimes taking up to six months from start to finish
They can require more upfront expenses than other replacement alternatives (though it should be noted that, in the long-run, the total cost of dental implants is often similar to—if not less than—that of other options due to their enhanced durability and limited need for maintenance)
Is Everyone a Candidate for Dental Implants?
The primary requirement for dental implant candidacy is the need to replace one or more missing and/or damaged teeth. Additionally, you must have good overall oral wellness and ample bone density to adequately support the implant post(s) to be considered a candidate.
At the time of your consultation, Dr. Miller will perform an extensive evaluation of your oral health and bone density with the aid of advanced diagnostic technologies like radiography and digital impressions. In the event she does not feel you are currently qualified for dental implants, she can often recommend treatments such as periodontal therapy, bone grafting, or tooth extraction to help improve your candidacy for treatment. She also offers a number of other tooth replacement alternatives that can be discussed at this time, enabling you to be fully informed and able to select the most appropriate option for your unique needs and goals.
If it is determined that you are a candidate for implant therapy, Dr. Miller will refer you to a surgeon (for example, an Oral Surgeon or Periodontist) to have the implant(s) placed into the bone. We use our network of talented specialists to perform the implant surgery because this is what we would do if it was us having this procedure done. Yes, general dentists can place implants, but the success rates are greatly diminished and potential hazards are increasingly possible as with any surgical procedure. Once the implant has fully integrated into the bone, Dr. Miller and her team will create the final tooth or teeth atop the new implant (everything you see in the mouth above the gums) in our on-site lab.
How Will My Customized Implant Restoration(s) Be Made?
A key distinction that sets Hamburg Expressions apart from other practices is our on-site dental lab in which our Certified Master Technician—Neil Miller, CDT, CMT—can custom-create all abutments and restorations needed for implant dentistry cases.
Abutments
There are two ways to attach a tooth restoration to the implant post that is embedded in your bone. Many dentists place stock abutments that are manufactured by the implant company in various sizes, shapes, and angulations. But at Hamburg Expressions, we only use custom abutments made from zirconia (with an internal titanium core) that are personalized for your particular case. The difference is similar to a set of eyeglasses that you buy from a display at your pharmacy versus a set that is made to fit a prescription from your eye doctor. Using highly sophisticated CEREC® CAD-CAM software, Neil can shape customized abutments specifically for your mouth to yield the highest level of function and aesthetics. They are extremely durable and, due to the white translucent zirconia, incredibly strong and natural-looking.
Tooth Restorations
Working collaboratively with Dr. Miller, Neil utilizes top-of-the-line technologies like CEREC®, 5-axis milling, and state-of-the-art 3D printing to create all tooth restorations right here in-house with unprecedented precision and efficiency. In fact, he can generally fabricate restorations in a matter of days as opposed to the weeks—or even months!—often needed when practices have to deal with third-party dental laboratories. Furthermore, in the event any last minute touch-ups to the size, shape, and/or color of your restoration(s) are desired at the time of your final try-on, Neil can take care of all modifications immediately. Ultimately, you can benefit from ultra-precise restoration creation in significantly less time than is traditionally necessary.
Types of Implant Restorations
Implants are extremely versatile and they can be used to securely anchor many types of dental restorations and prosthetics. Depending on the number of teeth that need replacing, our Certified Master Technician can custom-craft one of the following restorations in our on-site dental lab. 
Single-Tooth Implants
The loss of even just one tooth can harm your bite and throw off the aesthetics of your smile. Single-tooth implants are designed to replace individual missing teeth, and they are formed of three components: a titanium implant post, an abutment, and a custom-crafted porcelain dental crown that is meticulously crafted to blend in seamlessly with the surrounding teeth. A single-tooth implant can restore proper oral function while also protecting the integrity of your bite and jaw.
Implant Bridges
For eligible patients, dental implants can be used to anchor dental bridges, a type of restoration called an "implant bridge." Whereas a traditional bridge consists of an abutment attached to two crowns, the addition of durable titanium implants can offer more support and pose less harm to natural teeth. Implant bridges can replace two or more teeth in a row.
Implant Dentures
In recent years, implant-supported dentures have come to be considered the gold standard for replacing full or partial arches of teeth. These advanced restorations consist of a denture prosthetic supported by a few precisely placed dental implants. In some cases, as few as four implants can anchor an entire arch using a technique known as "All-on-4." Many patients report that implant dentures are more comfortable, functional, and aesthetically pleasing than traditional removable dentures. 
What Is the Dental Implant Procedure Like?
To begin the dental implant process, Dr. Miller will perform a comprehensive oral assessment, review your smile concerns and expectations, and examine your candidacy for treatment. If dental implants are right for you, she will explain all facets of implant dentistry as they relate to your case, as well as create a physical wax-up model of your mouth to help you better visualize how your potential results may look after the placement of your custom restoration(s) on top of the implant post(s). Any modifications you desire can be made to the wax-up at this time until you are completely satisfied with the proposed outcome.
When both you and Dr. Miller are pleased with your smile design, she will move forward with custom treatment planning. We will use our state-of-the-art implant surgical guide technology along with ultra-low radiation CT scanning technology and digital impressions of your mouth that will allow her to pinpoint optimal locations and angles for implant placement in the jawbone. She will also formulate design specifications for the exact size, shape, and color of your final tooth restoration(s). This "beginning with the end in mind" approach will ensure that the implant is placed in the ideal location for the preplanned restoration while also ensuring the best aesthetic result possible
Once a plan is finalized, you will be referred to a local implant specialist who will surgically place your implant(s) based on the particulars of Dr. Miller's planning. Over the course of approximately four to six months, the implant(s) should fuse to your jawbone through a process called osseointegration, eventually becoming a permanent part of your mouth. During this time, the design details for your implant abutment(s) and restoration(s) will be sent to our on-site dental lab for custom creation. Dr. Miller will also secure temporary restorations designed to look and feel just like your final restoration(s) to allow you to get accustomed to your new smile.
After osseointegration is complete, Dr. Miller will have you return to our office to try on your final restoration(s). While it is uncommon that changes are needed, any last-minute modifications or fine-tuning can be completed immediately—which is yet another benefit of housing an on-site dental lab at our practice.
Once you are happy with the appearance of your smile, Dr. Miller will place your restoration(s) on the customized implant abutment(s), ensuring an excellent, secure fit on top of the implant post(s). When this is complete, your restoration(s) should blend perfectly with your surrounding teeth—in fact, it is likely that no one will be able to tell you were ever missing a tooth!
Consultations from the Couch
As a convenience, Dr. Miller offers FaceTime consultations to discuss your smile goals and preliminarily evaluate your candidacy for dental implants—all while you remain perfectly comfortable in your own home.
How Long Do Dental Implants Last?
Once dental implants have fully fused to the jawbone, the implant posts themselves can last a lifetime when properly cared for. In addition to brushing and flossing at least twice daily, this care includes receiving routine dental cleanings during which Dr. Miller and our team can thoroughly cleanse and irrigate the implants, as well as confirm their stability with digital x-rays and bite evaluations. Regarding the restoration(s) secured to the top of dental implant posts, most of our patients find that their implant-crowns, -bridges, or -dentures last many years—often even decades—before a new restoration may be needed. That said, there are certainly instances in which our patients' restorations last a lifetime alongside their dental implants!
Are There Any Alternatives to Dental Implants?
Although dental implants are considered the "gold standard" for tooth replacement, they may not be the right solution for every patient. Another option you may consider is a dental bridge that is not anchored by a dental implant. During treatment, a dental bridge fills the gap left behind by tooth loss by anchoring an artificial tooth or set of teeth in between two porcelain crowns—which are placed on the adjacent healthy teeth for support. In cases where patients require full-arch replacement but are not eligible for implant dentures, traditional removable dentures may also provide an ideal alternative. During your tooth-replacement consultation, Dr. Miller will thoroughly examine your oral health to help determine the best treatment option for your needs.
How Do I Clean and Care for My Dental implants
Dental implants look, feel, and function just like natural teeth—and they should be treated similarly. With this in mind, proper cleaning and care includes regular brushing and flossing, as well as receiving professional cleanings at least twice annually to ensure surrounding bone and gum tissues remain healthy. In addition, Dr. Miller recommends avoiding the same types of habits that can lead to undue wear and tear on natural teeth—such as nail biting, crunching on ice or hard candy, using one's teeth to open packaging, etc.—as these actions can potentially damage and/or shorten the lifespan of the restoration(s) placed on top of the implant(s).
How Much Do Dental Implants Cost?
On average, the cost of single-tooth dental implants at our Lexington practice is approximately $3,500. Exact pricing for treatment will depend on a variety of different factors, including how many implants are placed, the particular restoration used, whether or not preliminary treatments are needed, and more. It is also important to keep in mind that cost is often a reflection of the skill and experience of the dentist, the quality of materials utilized, and the level of care you can expect to receive. As a result, it is not advisable to shop around for dental implant providers based on cost alone.
At Hamburg Expressions, we never want procedural expenses to get in the way of someone receiving the most effective treatment for their needs. For this reason, we partner with CareCredit®—a reputable healthcare lender that offers numerous monthly payment plan options with little to no interest rates. If the cost of implant dentistry is a concern for you, we are happy to show you how to view your options and choose a plan that is right for your budget.
Additional Frequently Asked Questions About Dental Implants
Are dental implants safe?
When treatment is properly planned and performed by qualified and experienced doctors, dental implants are considered to be a safe tooth replacement option for the right candidates. Of course, as with any surgery, some risks (such as infection, poor healing, etc.) do innately exist—though, again, the potential for these issues to occur can be greatly minimized by choosing the right dentist.
Dr. Miller has received extensive implant dentistry training and has over two decades of experience in successfully planning dental implant treatments. For the actual placement of implants, she refers patients to a local implant specialist who will perform surgery based on the exact specifics of her plan. At the time of your appointment, Dr. Miller can cover all possible complications and detail the various techniques and measures she employs to optimize both treatment safety and efficacy as they relate to your unique case.
Do dental implants hurt?
During the dental implant procedure, some form of anesthesia—whether local or general—will be utilized to help ensure minimal to no discomfort is experienced. Following surgery, some degree of tenderness and/or soreness in and around the area(s) in which the implants were placed is common, though the vast majority of patients describe these sensations as mild and are able to effectively alleviate them with medication until fully resolved on their own.
Does insurance cover dental implants?
Whether or not insurance covers any portion of your dental implant care will depend on your particular plan. At the time of your appointment, our staff will be happy to check with your insurance provider to determine if you have coverage. In the event dental implants are not covered by your plan, we do offer dental financing via CareCredit®. With a variety of little to no interest payment plan options to choose from, CareCredit® can help make dental implants affordable for virtually any budget.
Am I too old for dental implants?
When it comes to dental implants, age is less of a factor in determining candidacy than whether or not a patient has adequate jawbone density to allow for the successful placement of the implant post(s). While greater bone deterioration is often seen among older individuals who have been missing teeth for several years—and, therefore, the general assumption is those in their 70s, 80s, and beyond are not typically considered good candidates—the good news is bone grafting has advanced to the point that even many years of tissue breakdown can often be restored to create enough jawbone structure for dental implants. As a result, implant dentistry can often be an excellent tooth replacement solution for patients of all ages.
Can I get a full mouth of dental implants?
In some cases, patients may be able to replace all of their individual teeth with dental implants, assuming they have sufficient jawbone density to support the required number of implant posts. However, patients who need a full mouth of dental implants are usually better suited for implant dentures, which can replace full rows of teeth using just a few precisely placed implants.  
What should I eat if I have dental implants?
For the first few weeks after implant surgery, it is often recommended that patients adhere to a soft-food diet to help promote healing. However, once healed, dental implants should have little to no effect on your ability to eat different foods—some patients report that they can even make eating and chewing much easier! That said, to reap the full benefits of your implants, it is imperative that you maintain good dental hygiene, which includes adhering to a healthy diet. 
Can smoking cause my dental implants to fail?
>Especially during the process of osseointegration, smoking cigarettes can pose a serious risk to your chances of a successful outcome. Smoking can disrupt the fusing of the implant posts to the jawbone and cause the mouth to reject the implants, resulting in a phenomenon called "implant failure." In addition, nicotine can weaken the gums, contribute to tooth decay, and accelerate jawbone deterioration, all of which are bad for your long-term oral health. To give you the best possible chance for success, we encourage patients to refrain from smoking before and after their implants are placed.
Will I need a bone graft before getting dental implants?
During a thorough assessment and evaluation, Dr. Miller can determine if you have an adequate amount of jawbone density to successfully support dental implants. Should you require additional bone foundation, it may be necessary to transplant a small portion of bone—known as a bone graft—to accommodate an implant in an area where there is bone loss. If a bone graft is needed, there will be an additional healing period prior to starting the dental implant process. Bone grafts help to increase the likelihood of long-term implant success.
What will my dental implants look like?
Patients often choose dental implants for their ability to both look and feel just like natural teeth—from the strength of the implanted artificial root to the strategically matched color and shape of the adjoining dental crown. When a dental implant restoration is performed by a skilled cosmetic dentist like Dr. Miller, it should seamlessly blend in with the surrounding teeth. Many patients even report forgetting they have an implant once the adjustment period is complete.
What are dental implants made of?
The two most common materials used for dental implant posts are titanium and zirconium oxide, as their properties generally interact well with the human body, minimizing any risk of complications and promoting long-term durability. The crowns used to replicate the body of the tooth are typically made of a high-quality dental porcelain for a beautiful, natural-looking appearance. At Hamburg Expressions, our on-site dental laboratory has the advantage of closely monitoring and ensuring enhanced precision throughout the custom restoration manufacturing process. Using only the finest, safest materials and working with state-of-the-art tools, we are proud to offer the highest quality dental implants to our patients with restorations at the forefront of dental innovation.
Contact Our Practice
If you have additional questions or would like to know if you are a candidate for dental implants, please contact Hamburg Expressions today to schedule a complimentary consultation. Dr. Miller is happy to spend time with you personally to determine the best treatment option for your individual needs.