Restorative dentistry is the realm of oral care centered around rehabilitating both the form and function of missing and/or damaged teeth. Whether treatment involves repairing a single cracked tooth or resolving several issues affecting multiple—or even all—teeth, the aim is to optimize the bite, oral wellness, and overall aesthetic for a healthy, beautiful smile that lasts a lifetime.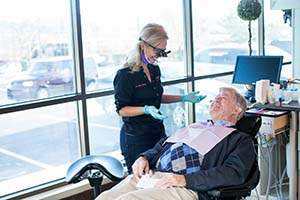 As a member of the American Academy of Cosmetic Dentistry (AACD), Dr. Jenny Miller is extensively trained and skilled in not only repairing the structure and integrity of teeth, but doing so by "beginning with the end in mind" to help ensure a stunning, natural-looking final outcome. Depending on your specific needs and desires, she can develop a custom restorative dentistry plan to resolve any of the following concerns:
Large cracks and/or breaks
Excessively worn-down teeth
Weakened tooth structure
Badly decayed teeth
Individual missing teeth
Multiple adjacent missing teeth
Full row(s) of missing teeth
Improper bite alignment
Along with her talent in expertly restoring smiles, an added benefit of seeking restorative dental care from Dr. Miller is her partnership with her husband, Neil Miller, CDT, CMT—a Certified Master Technician and operator of our state-of-the-art in-house dental laboratory. This allows for the most accurate and efficient creation of tooth restorations possible, as Neil can custom-craft all crowns, bridges, dental implant abutments, and more right here on-site according to the exact specifications Dr. Miller provides. Furthermore, this unique husband-wife partnership often results in significantly shorter treatment times in comparison to cases when third-party dental labs are involved—particularly when any potential last-minute modifications are needed to achieve an optimal look and fit for the final restoration(s).
If you are interested in improving the form and function of your smile with restorative dentistry, we invite you to browse the treatment options provided below, or simply contact our practice today to schedule an in-person or FaceTime consultation. Dr. Miller and our team would be honored to address your needs and help you achieve your smile goals. 
Porcelain Crowns
Porcelain dental crowns are designed to restore the look, structure, and function of individual teeth in need of repair due to significant damage and/or decay. Additionally, they can be secured on top of dental implant posts when replacing single missing or extracted teeth, effectively replicating—or even enhancing—the form and function of the former natural tooth or teeth. All porcelain crowns at our practice are custom-designed and -created on-site by Dr. Miller and Neil, respectively, resulting in exceptional results.
Porcelain Bridges
Porcelain dental bridges can be an excellent option for replacing one tooth or multiple adjacent teeth. Depending on your unique needs and desires, this restoration can be supported by two dental crowns placed overtop the natural teeth on either side of the gap left by the missing tooth or teeth, or it can be fixed in place via dental implants for optimal stability and function. In all cases, the design and fabrication of dental bridges at Hamburg Expressions are custom-tailored and completed in-house.
Dental Implants
Dental implants are universally regarded as the top option for tooth replacement in dentistry today. Anchored in the jawbone, implant posts replicate the stability of natural tooth roots to provide remarkable support for crowns, bridges, or dentures placed on top. Among numerous benefits, dental implants do not decay, they require no special maintenance, and they have over a 90% success rate of lasting a lifetime. Of course, all implant abutments and overlying restorations are custom-designed and made right here at our practice.
Full Mouth Reconstruction
Full mouth reconstruction involves the utilization of one or more dental services to comprehensively rehabilitate the function and appearance of the entire mouth. Customized by Dr. Miller to meet your specific needs and goals, treatment can resolve issues such as tooth wear and tear, missing teeth, bite misalignment, periodontal health, and even cosmetic concerns—all with the end goal of achieving optimal oral wellness and exceptional smile aesthetics. 
Book An Appointment
If you have any questions about restorative dentistry, or if you are considering treatment and wish to book an appointment with Dr. Miller, please feel free to contact Hamburg Expressions online or by telephone today!