Dental Care Services
Home/Dental Care Services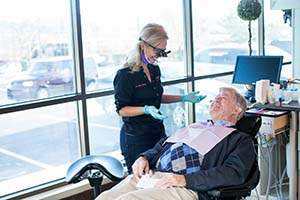 From oral exams and routine dental cleanings to comprehensive smile makeovers and full mouth restorations, Hamburg Expressions provides a vast span of dental care services to ensure our patients achieve—and maintain—beautiful, healthy smiles that last a lifetime. Dr. Jenny Miller and our entire team are greatly experienced and committed to delivering an exceptional level of care, always holding patient wellness, safety, and satisfaction in the highest regard. 
To help make finding the right dental treatment for you a bit easier, we have organized our services into three categories: cosmetic dentistry, restorative dentistry, and preventative dentistry. We invite you to read the brief descriptions and follow the links below to learn more about your options, or simply contact our practice today to book a consultation with Dr. Miller. We are more than happy to help you address your oral care needs and achieve your dream smile!
Cosmetic Dentistry
Cosmetic dentistry can help dramatically enhance the appearance of your smile by addressing chips, gaps, misalignments, discoloration, missing teeth, and a variety of other aesthetic concerns. Cosmetic dental treatments offered by Dr. Miller include porcelain veneers, single-tooth implants, porcelain crowns, teeth whitening, bonding, Invisalign®, and complete smile makeovers.
Restorative Dentistry
Restorative dentistry can improve both the look and function of the smile by repairing tooth damage and decay, strengthening weakened teeth, replacing missing teeth, resolving bite issues, and more. Restorative options available at our practice include porcelain crowns, dental bridges, dental implants, and full mouth reconstruction.
Preventative Dentistry
Preventative dentistry is critical to maintaining healthy teeth and gums—both of which are foundational elements of an attractive, long-lasting smile. Preventative dental services provided at our clinic include oral exams and cleanings, family care, metal-free and mercury-free dentistry, safe amalgam removal, oral cancer screenings, and non-surgical periodontal therapy.
Contact Hamburg Expressions
If you have any questions about our dental treatment options, or if you are ready to schedule an appointment for yourself or a loved one, please reach out to our practice online or by telephone today!