Essential to maintaining optimal oral wellness, preventative dentistry helps patients not only avoid many dental complications entirely, but also detect any potential issues in their earliest stages to allow for timely, more effective treatment. At Hamburg Expressions, Dr. Jenny Miller and our team understand that the foundation for a beautiful smile is a healthy mouth, which is why we offer numerous preventative dentistry services to ensure no concerns go unidentified and untreated. From comprehensive exams and cleanings to oral cancer screenings, periodontal therapy, and more, we are happy to provide the proactive care you need to help promote a lifetime of excellent dental health.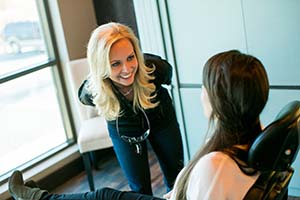 For more information on our preventative dentistry options, we encourage you to read the sections provided below. If you have any questions, or if you are interested in treatment and wish to book an appointment at Hamburg Expressions, please contact us today.
Dental Cleanings
Daily brushing and flossing play a vital role in keeping the teeth and gums clean, but these at-home oral hygiene habits alone are not able to remove all bacteria, plaque, and tartar that accumulate in the mouth. As an excellent complement to these efforts, professional dental cleanings can fully rid the mouth of harmful bacteria, plaque, and tartar left behind after brushing and flossing, helping to considerably diminish the potential for tooth decay, gum disease, and various other problems that may arise without proper care. To maintain optimal oral wellness, Dr. Miller recommends most individuals receive two annual dental cleanings—though the exact number will depend on your particular needs and oral health history.
Gentle Dentistry
One of the most common dreads of going to the dentist is the uncomfortable, and sometimes painful, shot of novocaine needed for certain treatments. Fortunately, Dr. Miller doesn't think it should be this way, which is why we offer an innovative gentle dentistry technique known as The Wand®—a special device that painlessly delivers precisely the correct amount of novocaine required to numb the desired area.
What you may not realize about a novocaine injection is that the pressure of the flow of the anesthetic is what typically causes discomfort. To combat this, The Wand® contains a microprocessor that calculates and regulates the flow of the anesthetic to the exact thickness and resistance of your soft tissue, enabling the anesthetic to numb the tissue as it enters so that there is no sensation of pain from the pressure. The result is a steady delivery of the anesthetic in a volume that registers below your pain threshold for a pain-free injection!
Sweaty palms and white-knuckling the hand rests are a thing of the past thanks to The Wand®. With the discomfort eliminated, our hope is that you will begin to look forward to your dental appointments.

I have really bad anxiety when it comes to going to the dentist. This is the only place that make you feel calm and relaxed they do a great job. I recommend going here for great service and really nice people.

pam steele

June 02, 2020

12345
More Reviews
Mercury-Free Dentistry
With the toxicity of mercury being well-documented today, many patients question whether or not traditional amalgam fillings—which are partly composed of mercury—are truly a safe option for repairing cavities and areas of tooth decay. At our practice, you don't have to worry about this issue, as Dr. Miller exclusively uses white composite fillings. In addition to being completely mercury-free, this modern alternative to amalgam is incredibly durable, natural-looking, and typically requires less modification of natural tooth structure.
Safe Amalgam Removal
Dr. Miller understands the importance of safely removing amalgam, mercury fillings. Our goal is to minimize exposure of both the mercury metal and the mercury vapor upon removal of mercury fillings. In our office, we use "rubber dam" (latex-free) isolation of the contaminated teeth, high-volume evacuation of the metal and vapor, as well as continuous oxygen inhalation with a nose mask during the procedure. We also recommend a follow-up supplement to rid the body of metals.
Metal-Free Dentistry
Metal allergies are not that uncommon. Are you a woman who has to wear hypo-allergenic earrings? You are probably allergic to nickel. About 10% of the population is allergic to nickel, and nickel is often used in porcelain-fused-to-metal dental crowns and bridges—as well as in partial denture frameworks. Beryllium and cobalt are other metals used in dental alloys that provoke sensitivities in some people. Knowing these things, some patients feel safest avoiding any metal at all in dental restorations.
The good news is, newer ceramic technologies have resulted in extremely strong metal-free dental materials. Porcelain crowns and bridges have proven to be remarkably durable, even for back teeth. And in addition to avoiding metal sensitivities, these restorations are very natural-looking because they both eliminate the need for using opaquers to block out the metal and they prevent those dreaded black lines at the gum level which make the artificial crown apparent.
At our practice, Dr. Miller has mastered the design and placement of customized porcelain restorations. In addition, all crowns, bridges, and other metal-free restorations are custom-crafted right here in our on-site dental lab by Certified Master Technician (and Dr. Miller's husband) Neil Miller, CDT, CMT. The end result is a beautiful, fully-functional smile that is free of any metals.
Oral Cancer Screening
As with many medical conditions, oral cancer is most successfully treated when identified early; however, it does not generally display symptoms to the naked eye in its initial stages. For this reason, receiving regular oral cancer screenings is critically important, as any tissue abnormalities in the mouth can be detected as soon as possible, resulting in earlier—and potentially more effective—treatment. At Hamburg Expressions, oral cancer screenings take only a few minutes to complete, adding hardly any time to your visit while providing peace of mind about your health.
Non-Surgical Periodontal Therapy
Caused by a buildup of plaque and harmful bacteria at the base of the teeth and beneath the gumline, periodontal (gum) disease is one of the most common oral ailments seen today. If left undiagnosed and/or untreated, this condition can progress from gum sensitivity and bleeding to the deterioration of the soft tissue and bone that support teeth. In its most advanced stages, gum disease may result in tooth loss, as well as a heightened risk for stroke, heart disease, and a variety of other health concerns.
At our clinic, Dr. Miller is experienced in the detection and treatment of periodontal disease using innovative non-surgical therapies. Should gum disease be identified during an oral exam, she can employ an appropriate plan to effectively manage the condition based on its current stage and severity, helping to hinder any further progression while restoring oral wellness.
Schedule Your Appointment
To learn more about the preventative dentistry options available at Hamburg Expressions, please don't hesitate to contact us today to book an appointment with Dr. Miller.