Is your smile looking dull? Coffee, smoking, berries, and drinking wine are some of the things that stain teeth. Professional whitening will give you a dazzling, white smile that you will be proud to show off.
We offer two options. Both are economical and almost everyone is a candidate.
Take-Home Teeth Whitening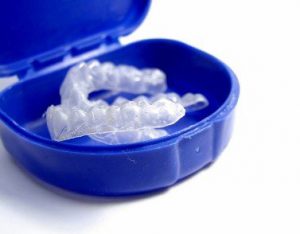 For starters, our Lexington cosmetic dentist—Jenny Miller, DMD—will provide a quick examination to make sure that you don't have any immediate concerns that need to be addressed. Then, an impression of your teeth will be taken so your customized trays can be created. They will fit snugly over your teeth and look similar to those shown in the image.
We will provide bleaching gel and specific instructions that state the frequency and duration to wear the trays. Most patients prefer to wear them overnight. Simply continue whitening until your teeth are as white as you like. You can always touch up your smile if you notice that your teeth are continuing to pick up stains.
Most take-home professional teeth whitening products are effective, but Dr. Miller feels Kör whitening is superior. The chemistry and the tri-barrel delivery system set this brand apart. It even delivers brilliant results to tough tetracycline cases.
In-Office Teeth Whitening
Zoom!® whitening delivers dramatically whiter teeth in only one office visit. This method is perfect for busy people because it is quick and convenient. Zoom!® uses a special light that activates the powerful whitening gel.
Comparison to Over-the-Counter Products
Buying your teeth whitening products from a store sounds so easy. Since you don't need a dentist to be involved, you can save a lot of money. But many patients become skeptical of any teeth whitening system because of disappointing results from over-the-counter whitening systems.
The agents we use in the office are much stronger and remain on the teeth longer than over-the-counter products. This enables the peroxide bleaching agent to penetrate deep into the teeth. Surface stains are removed permanently. Your teeth will always be lighter than they were before you started. Regular bleaching actually lightens the natural pigmentation of your teeth. This is much more than over-the-counter whitening products can do.
If you are ready to brighten your smile, give us a call or visit our request an appointment page.