When I was a teenager, I had four porcelain-fused-to-metal crowns done on my front teeth. They have been on for over 20 years. I decided I wanted to freshen up my smile, so I went to a cosmetic dentist in my hometown. Well, that was a big mistake! The guy ended up doing Kör whitening on my teeth, which ended up terrible.
So, I went to another cosmetic dentist and he refused to redo only the four crowns. He gave me this huge sales pitch and spiel about how I needed to do eight because I wouldn't be happy in the end. I got cold feet when he did the wax model, which was over $800.
Next, I saw another cosmetic dentist that would do the four crowns for me. But, they are super short and honestly the color looks green. He passed me off to his assistant and said she would do better with the color. We all know how this ends. I still have short, strangely colored crowns. I guess I've probably gotten used to them and wish I would have just left them alone in the first place. How can someone call themselves a cosmetic dentist and deliver these terrible results! His response was that I shouldn't be comparing myself to some celebrity I saw on the internet. Basically, his opinion was that it's an unrealistic expectation to have perfect teeth.
At this point, my husband will freak out if I try to get them fixed. I guess I just needed to get it off my chest.
-Shannon in Texas
Shannon,
Unfortunately, even if a dentist claims to be a cosmetic dentist, it is not a regulated area within dentistry. This means any dentist can make that claim. It is sad. Because you can get a "perfect" smile when you see an expert cosmetic dentist. When you find the right cosmetic dentist, it is like an artist and their masterpiece. A beautiful smile can be a reality. However, it sounds like it would take a lot of convincing for you at this point since you've invested so much time and money. The fact is that beautiful cosmetic dentistry can be expensive. But, when it is done right, it can be life-changing.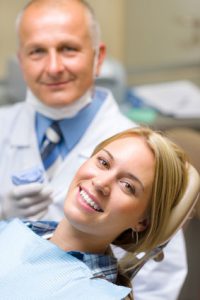 Also, you should have never had Kör bleaching done. Most dentists know that crowns do not whiten. So, if he did it regardless, that is very poor form. That would pretty much back you into a corner to have the crowns redone. It was good you left that dentist.
Then, the dentist that tried to get you to do eight instead of four crowns, maybe a high-end practice. Sometimes, they know what the ideal result is and will not move forward with anything else. It may be true that eight crowns may have delivered a flawless result. But, if that plan wasn't in your budget, he should have compromised or offered you a phased treatment plan.
Thank you for sharing your story. It continues to reinforce the fact that not every dentist that says they do cosmetic dentistry really can. And it's a great reminder for anyone considering it to do their homework. Get multiple opinions, ask to see their portfolio of work and look into their credentials.
This post is sponsored by Hamburg Expressions, a Lexington cosmetic dentist.