Unhappy with my cosmetic dentistry! What do I do?
Home/Blog / Unhappy with my cosmetic dentistry! What do I do?
Is there a cosmetic dentistry solution that will actually work for me? Here's the scoop. I have had four porcelain-fused-to-metal crowns on my front teeth for over five years. They were beginning to look old and dingy. So, I decided I wanted to whiten my smile, so my dentist recommended Kör whitening. Well, this was a bad idea. It made my crowns look terrible.
Then, I went to another dentist that said he could fix it, but the price tag was ridiculous. I don't know what to do or how I'm going to get them fixed. My crowns are too short and the color looks terrible after the whitening.
-Diana in California
Diana,
As you have learned, Kör whitening is a deep bleaching method that gives phenomenal results. However, it is only successful on natural tooth material. It will not lighten porcelain. So, the porcelain on the crowns didn't change color at all. That is why they look so bad. Unfortunately, it sounds like the dentist you went to wasn't very experienced with cosmetic dentistry.
Instead of paying a less expensive amount for Kör whitening, which wasn't the correct treatment option, you would have been better off doing nothing and saving up to have the porcelain-fused-to-metal crowns replaced with all-porcelain crowns.
Most excellent cosmetic dentists will only do all-porcelain crowns on front teeth. Since, as you know, over time the gums recede and the metal framework becomes visible. This leaves you with a dark, grey line at the gumline.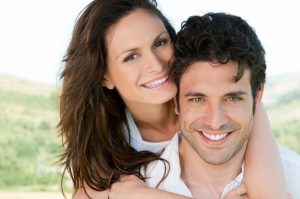 It's not too late to get a beautiful smile. You just need to be more selective when you are choosing a cosmetic dentist. Learn more about their credentials, ask to see before and after photos of similar cases and find out how often they are doing this kind of high-profile cosmetic dentistry. These teeth are very visible when you talk or smile. You need to find the best cosmetic dentist in your area and schedule a consultation. Many times they will work with you on payments, by splitting the cost into phases. Or it is possible you could take advantage of a low or no interest financing plan.
Best of luck!
This post is sponsored by Lexington cosmetic dentist Hamburg Expressions.
Previous Post
Next Post