I look like Bugs Bunny after porcelain veneers.
I have always hated my short, stubby teeth and was convinced that porcelain veneers would be the answer to my prayers. I saw one of my Hollywood idols just had them done to transform her smile and that was the final straw. I went in and begged my dentist to do them. Unfortunately, now I look like Bugs Bunny. They look silly, too long and chunky. I am now hiding my smile for a completely different reason.
Do I have any options or were my hopes just too high?
-Carolyn in New York
Carolyn,
It's no secret that Hollywood stars look flawless most of the time and when it comes to a new smile makeover with porcelain veneers, there is no doubt the photos you saw of your idol look perfect.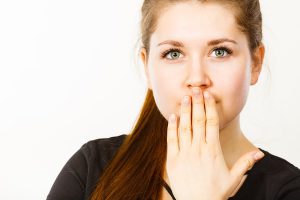 However, you may have broken a cosmetic dentistry cardinal rule. Here's the thing, you cannot expect any dentist to do beautiful porcelain veneers. Cosmetic dentistry is nothing short of an art form. Most excellent cosmetic dentists pursue extensive training beyond dental school and have a true passion for creating beauty. Unfortunately, not every family dentist has the skill set. Often, porcelain veneers can be used to correct short, misshapen teeth. However, your dentist doesn't sound like he was a true cosmetic dentist.
Difference Between a General & Cosmetic Dentist
Most general dentists are trained to fix a fundamental problem. They do a nice job with regular cleanings and exams, as well as competent doing fillings, root canals or dental crowns. But, when it comes to cosmetic dentistry, you need to do your homework. As mentioned above, it takes a perfectionist mindset, one beyond just fixing a problem. Many excellent cosmetic dentists are affiliated with the American Academy of Cosmetic Dentistry. If the dentist is a member or fellow with the AACD, you will likely be in good shape. Also, you can ask about their credentials, check out their portfolio of work and ask about their recommendations for your specific case. It is possible, you may not be a porcelain veneers candidate and an excellent cosmetic dentist would be able to present you with your options.
This doesn't help you now, of course. So, you could go back to your dentist and ask him to shorten and smooth them down. Explain what you don't like and why and see if he will take the opportunity to correct his work. However, it is quite possible that this is simply not something he will ever get right. It happens far more than you'd think. So, you may need to cut your losses and see a reputable cosmetic dentist in your area to fix your porcelain veneers.
This post is sponsored by Lexington cosmetic dentist Hamburg Expressions.
Previous Post
Next Post