Lexington CEREC Crowns
A traditional dental crown requires two separate appointments. In the first, the tooth is prepared, an impression is taken so the permanent crown can be fabricated in the lab, and you are fitted with a temporary crown to wear in the meantime. At the second appointment, usually two to four weeks later, the temporary is removed and the permanent crown is placed.
With CEREC technology, we can create your crown in only one day. It is quick, convenient, and you don't have to deal with an uncomfortable temporary crown. The tooth preparation, impression, and final placement of the crown are all done in the same appointment.
How Does CEREC Work?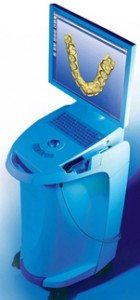 Dr. Jenny will create a three-dimensional model using CEREC's innovative, computer assisted design-computer assisted manufacture technology. When she is happy with the design, it is transferred to the milling unit. Then, it is manufactured right here at the office in about 20 minutes. Dr. Jenny will fit the crown and make any necessary adjustments. And when it is seated perfectly, she will permanently bond it into place.
The CEREC process is quick, convenient, and delivers beautiful results that blend in perfectly with your surrounding teeth. For patients that are extremely busy or need a crown fast before an upcoming trip or special occasion, CEREC may be the right solution.
Is a CEREC Crown Right for you?
No one likes to have dental work done. With CEREC, getting a crown can be convenient. Other advantages include:
Only one appointment is required. Get a crown in a day!
You don't need a temporary crown.
The advanced technology enables the crown to be manufactured without metal because the ceramic material is extremely durable.
CEREC prevents any miscommunication with the lab.
The computer-aided milling machine ensures an exact fit.
If CEREC sounds like something you may be interested in, give us call or visit our request an appointment page for more information.