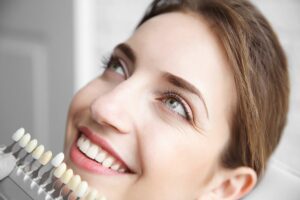 Missing teeth can result in a variety of problems, including bite misalignment, jawbone deterioration, and an increased risk of infections and gum disease. They can also be a source of significant aesthetic discomfort, making people feel self-conscious about their smiles. Fortunately, Lexington cosmetic dentist Jenny Miller, DMD provides several tooth replacement options that are designed to restore your bite, protect your oral health, and beautify your smile. Treatments include:
Dental Implants
Dental Implants can be an ideal option for those who are missing single teeth, multiple teeth, or even entire dental arches. The implant process begins with the precise, surgical insertion of a titanium post into the jawbone. This post will then be left to fuse for several months, before finally being capped with a custom crown. Implants are designed to replicate the entire tooth structure, including the root, making them a durable, stable, and natural-looking and feeling solution to tooth loss. Plus, all dental restorations are made at Hamburg Expressions's on-site dental lab, meaning that you can help customize the final shape, size, and color of your new tooth or teeth!
Dental Bridges
Porcelain dental bridges can also provide a comfortable, lasting tooth replacement option for those who are missing one or more adjacent teeth. As the name might suggest, a dental bridge is designed to bridge the gaps left behind by missing teeth. This is accomplished using a custom false tooth that is then anchored to the healthy teeth on either side using porcelain crowns. This treatment may be an ideal option for those who are not interested in undergoing surgery, or who already require crowns on the teeth surrounding the gap.
Ultimately, the optimal tooth replacement option will depend on your unique needs and cosmetic goals. Dr. Miller will carefully go over the various options with you, while also taking into consideration your budget, the location of the missing teeth, and your overall oral health. She can then make personalized recommendations and begin formulating a treatment plan. Dr. Miller is nationally recognized for her smile makeover skills, and together with her husband, Neil Miller—a Certified Master Technician and the head of Hamburg Expressions's dental laboratory—she can give you a beautiful, natural-looking restoration designed to safeguard both your smile and your health for years to come.
For more information about the tooth replacement options offered at Hamburg Expressions, or to schedule an appointment, please contact us today!
Previous Post
Next Post