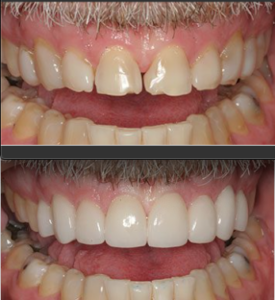 Although tooth enamel is one of the strongest substances in the body, chipping a tooth is actually quite common. People usually chip or break a tooth by biting down on hard foods, opening packages with their mouth, and/or playing contact sports without a mouthguard. Whatever the cause—and no matter the size of the damage—the good news is chips or breaks can be beautifully repaired with a number of treatment options, helping to restore the appearance of your smile. At Hamburg Expressions, our highly skilled cosmetic dentist, Dr. Jenny Miller, offers the following effective solutions for chipped or broken teeth:
Porcelain Veneers – One of the most popular methods to fix a chipped tooth is porcelain veneers. Veneers are ultra-thin shells of porcelain that attach to the front surface of teeth, effectively covering any cosmetic flaws underneath. Since a powerful dental cement is used to secure the porcelain shell on the tooth, veneers are quite durable and long-lasting. The treatment can deliver exceptionally natural-looking results while restoring the strength and appearance of your chipped or broken tooth.
Cosmetic Bonding – Another effective method that can address small chips, cracks, or a broken front tooth is cosmetic dental bonding. A tooth-colored dental resin is applied to the damaged portion of the tooth to restore a full shape. Dr. Miller can also improve the color and/or size of the restored tooth to seamlessly blend with the surrounding teeth. Cosmetic bonding does not generally deliver the same long-lasting results as porcelain veneers; however, with proper care, the treatment can yield outcomes that last for years.
Porcelain Crowns – If the tooth is severely damaged and its health is at risk, then a porcelain crown may be recommended for you. Unlike a porcelain veneer, a crown covers the whole tooth rather than just the front surface. This restorative technique can enhance the structure and appearance of the tooth while effectively protecting the remaining healthy tooth material.
If you are seeking treatment for a chipped or broken tooth, we encourage you to schedule a consultation with Dr. Miller so she can assess the damage of your tooth and decide which repair option is best for your needs. Contact us today!
Previous Post
Next Post