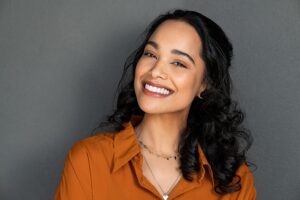 Dazzling pearly whites can be career-defining for celebrities, with some even insuring their famous smiles for millions of dollars. While cosmetic dentistry alone cannot get you a role on the big screen, we can offer custom-tailored treatment plans to help you achieve the brighter, straighter, celebrity-worthy smile you desire. With over 25 years of experience, our Lexington cosmetic dentist, Jenny Miller, DMD, works closely with patients to correct or improve dental concerns such as chips, gaps, stains, misalignment, overcrowding, worn-down or missing teeth, uneven and/or excessive gum tissue, and more. 
Dr. Miller has received numerous "Best Dentist" awards and is renowned for delivering beautiful, natural-looking smile makeover results. She offers a comprehensive selection of transformative cosmetic dental procedures, including:
Porcelain Veneers
Made from durable, stain-resistant dental porcelain, these custom-crafted restorations are fitted to the fronts and sides of the teeth to conceal chips, stains, gaps, and other concerns. Veneers are a versatile treatment option, capable of enhancing the appearance of individual teeth or creating an entirely new smile aesthetic. 
Porcelain Crowns
Crowns are capped over damaged or decayed teeth to restore strength and aesthetics. They can also be affixed on top of dental implants as a means of replacing missing teeth with beautiful, natural-looking results.
Teeth Whitening
Professional in-office or at-home whitening treatments can correct stains, yellowing, and discoloration to reveal teeth that are several shades lighter. 
Dental Bonding
Composite resin bonding can repair small chips and cracks while improving the color, shape, and size of teeth. 
Invisalign®
Invisalign® can discreetly and comfortably correct mild to moderate gaps, misalignment, overcrowding, and bite issues with a series of clear, flexible, plastic aligners. 
BOTOX® Cosmetic
BOTOX® injections can be incorporated into your treatment plan to reduce wrinkles and highlight the rejuvenating effects of your smile makeover.
At Hamburg Expressions, our team crafts porcelain crowns, veneers, and other custom restorations at our on-site dental laboratory—run by Neil Miller, a Certified Master Technician. This allows for a more efficient and personalized treatment process, with Neil capable of making last-minute alterations during your final "try-on" visit to ensure you are as satisfied as possible with your new smile. For a preview of the treatment results that Dr. Miller and her team have helped patients obtain, please visit our smile gallery.
If you are interested in revamping your smile to be red-carpet ready and would like to schedule a consultation with Dr. Miller, please contact us today! 
Previous Post