Who doesn't want a beautiful smile?
Dr. Jenny Miller loves transforming smiles, though her passion goes much deeper than that. What really drives her is the improved self worth behind those smiles. Every day she gets to see how her work makes a significant impact personally, socially, and professionally in the lives of her patients.
Not just any dentist can do beautiful cosmetic dentistry. General dentists are trained to fix things. But to do beautiful cosmetic dentistry takes passion, extensive post-graduate training, as well as an artistic eye.
You can can rest assured that you are in the very best of hands when you are in Dr. Jenny's chair. She is part of an elite class of individuals that has trained at the Las Vegas Institute for Advanced Dental Studies and is a Sustaining Member of the American Academy of Cosmetic Dentistry. In 2005, she won a Gold Medal in the International Smile Gallery competition of the American Academy of Cosmetic Dentistry.
What are Porcelain Veneers?
Virtually indistinguishable in appearance from your natural teeth, porcelain veneers mimic the natural appearance, strength, protection, and durability of tooth enamel.
Veneers are comprised of an ultra-thin layer of tooth-colored porcelain that is highly stain resistant and reflects light the same way your natural teeth do. When veneers are done by an excellent cosmetic dentist, they will look stunning. Dr. Jenny can customize each veneer's shape, texture, translucency, and size to blend in flawlessly with your surrounding teeth.
This treatment can amend a number of oral conditions including:
Revitalizing the surface of your tooth
Concealing staining and/or discoloration
Covering chips
Closing gaps between teeth
Masking misaligned teeth
Restoring teeth after wear and tear
As an alternative to orthodontic treatment
The Application Process
After it is determined that you are a porcelain veneers candidate, selecting a smile design is the next step. Dr. Miller will meet with you to better understand your objective and will make recommendations to complement your facial characteristics and personality. Browsing photographs of cases similar to yours helps establish what you like or dislike.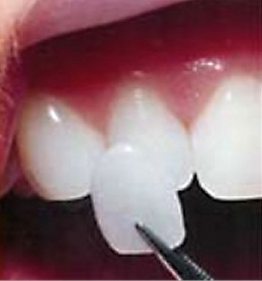 Then, an exam will be done where x-rays and impressions of your teeth are taken. The teeth will be prepared for veneers by shaving a tiny portion of your tooth. This guarantees a seamless transition from the tooth to the veneer. You can see how very little of the tooth is removed in this image.
Dr. Jenny is so confident that you will absolutely love your new smile, she offers a beautiful smile guarantee on all porcelain veneers. This means that throughout the design process you will have multiple opportunities to see exactly how your new smile will look before it is permanently bonded. If at any time you are not satisfied, she will correct it. Please visit our beautiful smile guarantee page to learn more about how this works.
One of the things that sets us apart is our in-house laboratory. Neil Miller, Dr. Jenny's husband and partner, is her master ceramist. He brings over 20 years of experience to the team and will fabricate the veneers to her exact specifications. Having this capability in the office eliminates any miscommunication between the doctor and the lab. If there are any changes that need to be made, they can be done immediately. It also means we can create your veneers in a matter of days. Other practices may have to wait several weeks for their veneers to return from the lab.
If you are ready to find out if porcelain veneers are right for you, please give us a call and set up a complimentary consultation. Dr. Jenny will spend a few minutes with you and give her opinion. Then you can decide if you would like to move forward.
Below are some examples of Dr. Jenny's beautiful work.