Lexington Gentle Dentist
We understand that going to the dentist may not be one of your favorite activities. Maybe it's been a long time since you have been in and you are nervous to find out if you will need treatment. Or maybe you have had a negative or painful experience in the past.
Gentle Dentistry with Pain-Free Injections
One of the most common things patients dread about going to the dentist is the shot. Well, Dr. Jenny doesn't think it should be that way.
The Wand™ is one of the gentle dentistry techniques we offer.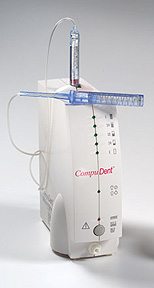 This device is controlled by an internal computer. It delivers precisely the correct amount of novocain required to get the area numb.
What you may not realize about a novocain injection is that the pressure of the flow of the anesthetic is what typically causes discomfort. The Wand contains a microprocessor that calculates and regulates the flow of the anesthetic to the exact thickness and resistance of your soft tissue. This innovative device enables the anesthetic to numb the tissue as it enters, so that there is no sensation of pain from that pressure.
The result is that you will receive a steady delivery of the anesthetic in a volume that registers below your pain threshold.  The result – a pain-free injection!
Sweaty palms and white knuckling the hand rests are a thing of the past with The Wand. With the discomfort eliminated, our hope is that you will begin to look forward to your dental appointments.