Lexington Dental Implants
A missing tooth can be a devastating occurrence. If tooth loss is left untreated, it may adversely alter your speech patterns, chewing efficiency, and dietary habits. The surrounding teeth may shift around and over time bone loss will occur. And, of course, a missing tooth isn't very attractive.
If you have lost one or several of your teeth, you may be a candidate for dental implants. They are a permanent solution that looks, feels, and functions just like your natural teeth.
What is a Dental Implant?
A dental implant is comprised of two main components, as well as two phases. The surgical post is a man-made replacement for the root of a tooth that is surgically implanted into the jawbone.
As the mouth heals, approximately two to six months after surgery, the bone and implant fuse together in a process called osseointegration. Once healing is complete, Dr. Jenny will place the restoration directly on the implant.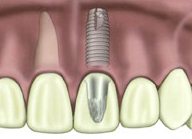 This image does a nice job of illustrating these two components. The post serves as an anchor into the jaw that supports the porcelain crown, which is visible above the gumline. Dr. Jenny will blend the restoration in perfectly with your surrounding teeth. No one will be able to tell you were ever missing a tooth.
Custom Implant Abutments
There are two ways to attach an implant tooth to the implant post that is embedded in your bone. Many dentists place stock abutments that are manufactured by the implant company in various sizes, shapes, and angulations. But at Hamburg Expressions, we only use custom abutments that are custom crafted for your particular case. These are shaped for your mouth for the highest level of function and esthetics. It's similar to the difference between a set of eyeglasses that you buy from a display at your pharmacy versus a set that is made to fit a prescription from your eye doctor. All of our work is done in house in our on-site laboratory. The abutment is made from zirconia with highly sophisticated CEREC CAD-CAM software, with an internal titanium core. It is extremely durable and, with the white translucent zirconia, it is very esthetic.
Advantages
Individuals with dental implants benefit in many ways:
Implants are a durable, permanent solution to a missing tooth.
They allow you to chew normally.
None of the surrounding teeth are affected as they are with a dental bridge.
Dental implants can also be used to help stabilize a denture.
An implant will look just like your natural tooth.
Facial collapse is prevented. This debilitating bone loss condition occurs when an individual is missing teeth. The body resorbs the minerals that were once used to support the teeth to be used elsewhere in the body.
Disadvantages
They have a long healing period. Implants can take up to six months from start to finish.
Implants are a more expensive treatment than other replacement alternatives.
If the teeth surrounding the missing tooth are in poor shape and need crowns anyway, a dental bridge may be an appropriate option.
If you have questions or would like to know if you are a candidate, please schedule a complimentary consultation. Dr. Jenny will spend a few minutes with you personally to find out what the best treatment option may be for your individualized needs.