I have a crown on one of my front teeth and the other one is a part of a dental bridge. Do you know if a cosmetic dentist can close the gap with Lumineers or possibly another treatment? Or, will I have to get both the crown and bridge redone to close it?
-Paula in Indiana
Paula,
If you have a bridge and a crown, I am wondering why the dentist left the gap between your two front teeth? The easiest way to resolve this issue would have been to do it correctly the first time.
Ideally, both of your front teeth should be the same size, so it also depends on how large the gap in your front teeth is. You cannot close the gap from one side, because it will leave the gap on the other side larger. Unfortunately, you will likely have to have them both redone.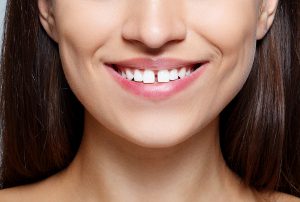 The dentist you went to previously, doesn't sound like an expert cosmetic dentist. So, it is important to realize that not just any family dentist will be able to successfully close your gap and give you the result you desire. Therefore, be sure you do some research and find a cosmetic dentist in your area that is experienced in doing highly aesthetic, visible work. Remember, everyone sees your front teeth when you talk or smile. You need to have a dentist you can trust. So, check their credentials and ask to see their portfolio of work for similar cases.
When you have found the best cosmetic dentist possible, see if they are willing to consider using composite bonding directly onto the porcelain. It is possible to use tooth bonding to help close the gap, which may eliminate or prolong having the previous work redone. It will require etching the porcelain on the restorations near the gap. Then a special gel will prime the surface, along with a bonding agent. Resin and bonding material could be used to mimic the shade of the crown and the bridge to help close the gap. However, keep in mind that down the road this area may be susceptible to staining along the margin where the composite meets the porcelain. But, if you find the right dentist, it may help you avoid the expense of starting from scratch.
Lastly, you had mentioned using Lumineers to close the gap. There have been cases where they have been recommended to be bonded on top of porcelain crowns. But, the result isn't worth it. You would still risk that same area becoming stained. Also, it would end up being just as expensive than it would be to replace the original work.
Best of luck!
This post is sponsored by a cosmetic dentist in Lexington, Hamburg Expressions.